ROE-161 After 10 Days Of Giving My Longing Aunt An Aphrodisiac, I Became A Meat Urinal With Unlimited Vaginal Cum Shot. Seo Reiko
ROE161 憧れの叔母に媚薬を盛り続けて10日後、ガンギマリ中出しハメ放題のアヘアヘ肉便器になった…。 瀬尾礼子
Release date: 2023/09/12
Recording time: 140 minutes
Performer: Reiko Seo
Director: Yukio Haruka
Series: 10 days after keeping aphrodisiacs on my longing aunt, it became an all -you -can -eat creampie ahaeal hair toilet bowl.
Manufacturer: Madonna
Label: Monroe
Genre: Mature Woman Single Work Creampie Drug Sweat Sample Video Aunt
Part number: ROE161
Average evaluation: View reviews
I made an aphrodisiac based on the Internet information to make my longing beautiful aunt as expected.And this summer, I stayed at my aunt's house and came to try aphrodisiac.He stealed his aunt's eyes, gradually increasing the amount of 1 drop, 2 drops, 3 drops, 4 drops.My aunt, whose body is flooded, sighs intensely, and twisted her body, seems to be no longer sane.And 10 days later, my aunt, who finally lost reason, attacked me.Then my aunt turned into an obedient and dedicated meat urinal.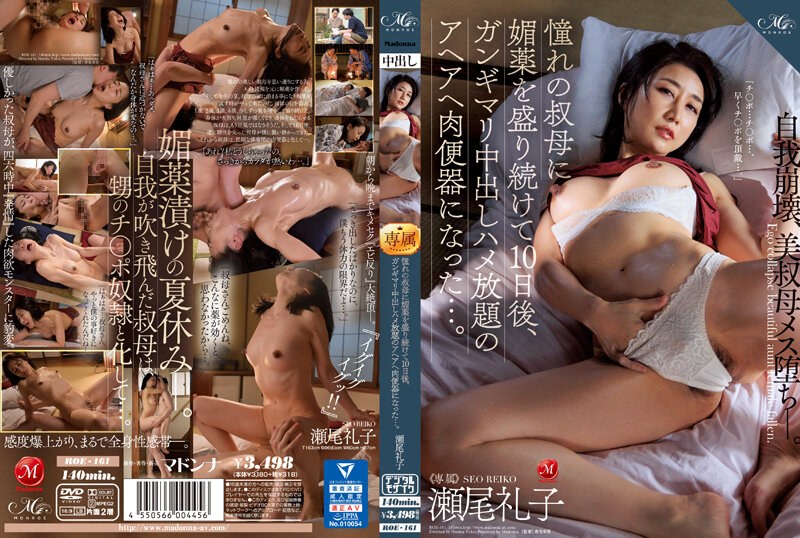 Date: September 9, 2023